Regular price
Sale price
£85.00
Unit price
per
Coming soon
Sale
Back soon
They say good things come in threes - this dainty trinity labret stud climbs up your ear and looks gorgeous in a high lobe, forward helix, flat helix, helix, conch and more!
Sold as one single earring.

Post length: 6mm
Gauge: 16g (1.2mm)
Materials: 9k solid white gold and cubic zirconia crystals
What are flat back labret studs?

Our internally threaded flat back earrings have a flat heart shaped disc at the end of the earring post and thread through from the back of the ear with a front fastening stud. Our labrets have a unique 4mm thread for easier, more secure fitting. This comfortable close fitting design is perfect for most cartilage piercings.

These earrings are sold as singles.
Shipping & Returns

Shipping rates

All UK Orders - including Isle of Man, Jersey and Guernsey

£3.95 Royal Mail standard delivery: 3-4 working days

£6.95 Royal Mail fastest delivery: 1-2 working days

Orders over £150.00 qualify for free Royal Mail fastest delivery (1-2 working days)

£1.95 Royal Mail 2nd class for ring sizers

International orders

Our International orders are shipped with Royal Mail International or DHL Express.

European Union (excluding France, Ireland, Austria and Germany)

£14.95 Express delivery with DHL Express (3-7 working days) local import duties/taxes paid

France, Ireland, Austria and Germany

£6.95 International Royal Mail delivery (5-10 working days) local import duties/taxes paid

£14.95 Express delivery with DHL Express (3-7 working days) local import duties/taxes paid

United States of America

Orders under £200.00
£15.00 Express delivery with DHL (5-10 working days)

Orders over £200.00
Qualify for free Express delivery with DHL (5-10 working days)

Australia

Orders under £300.00
£6.95 International Royal Mail delivery (3-4 weeks)

£11.95 Express delivery with DHL (5-10 working days)

Orders over £300.00
Qualify for free Express delivery with DHL (5-10 working days)

Rest of the world

From £15.00 - £30.00 Express delivery with DHL (shipping only)

We ship to most of the world using DHL Express delivery. Please get in touch if you would like more information about delivery to your country and if it is not listed as an option at the checkout. We regret that we are currently not able to ship to Portugal, Israel, Russia, India, Argentina, Switzerland or the Philippines.


Import taxes and additional charges

Most countries will levy import taxes up to around 25% of the order value.

Laura Bond does not pay these taxes, they are the responsibility of the customer and will be charged once the package arrives at its destination country.

If you are based in the EU, your local import and duties charges are now included in your shipping fee. 

If you are not sure about the rules for your country, we recommend you contact your local customs office for more information on the fees and restrictions that may apply.

In the event that a package is destroyed or not returned to us by customs because it does not meet the entry requirements to your country, Laura Bond will not be able to refund the customers.

View our full shipping policy here.

Returns

View our full returns policy here.
Care Guide

Our solid gold earrings are suitable for 24/7 wear however over time your earrings might become slightly tarnished. They are easy to clean and bring back to their original sparkle, for full details see 

caring for your jewellery

.
View full details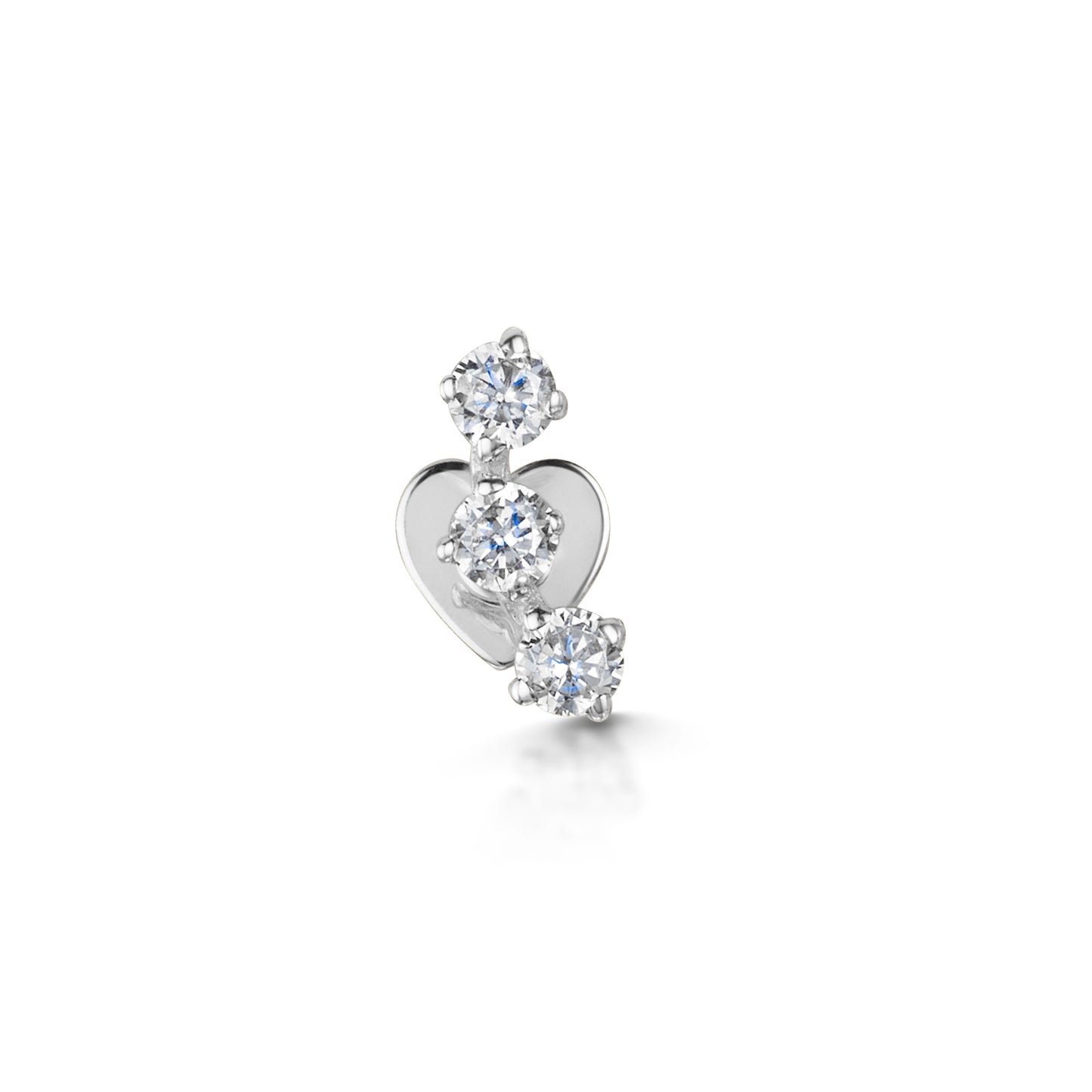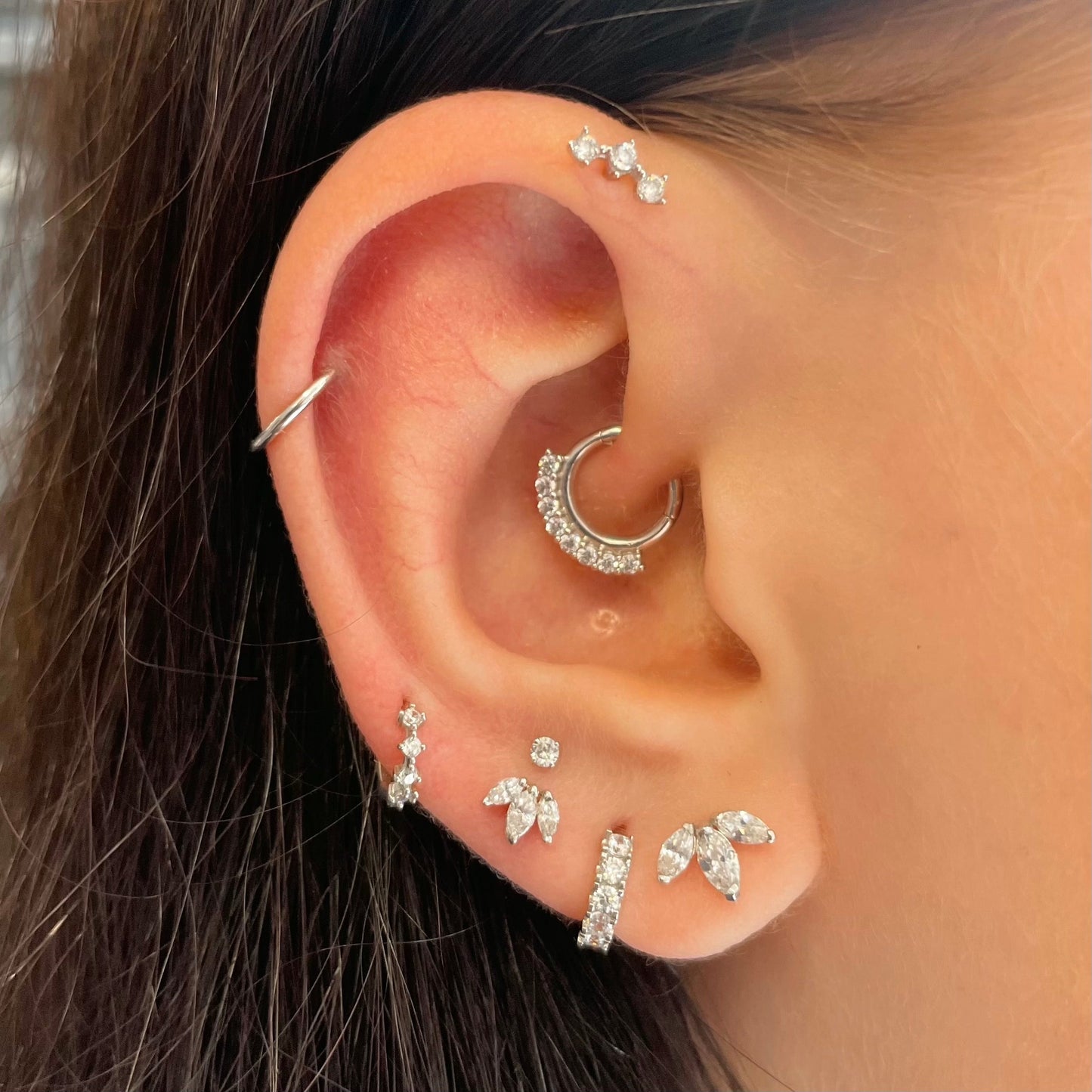 About Laura Bond
Laura Bond is renowned for bringing a dainty and feminine touch to the world of solid gold body jewellery.
Specialising in solid gold ear styling, Laura Bond has become the go-to brand for fairly priced, responsibly made body jewellery.
Founded in 2019, we are a family business based in Edinburgh.
Find out more
Why customers love Laura Bond
Shipping
I've ordered, when can I expect it to arrive?

Orders are usually shipped next working day, you'll receive a notification to let you know it's on its way and tracking information to follow its journey.

For UK orders we can offer tracked 48 hr or Special 24 hr delivery with Royal Mail. International orders are shipped express with DHL or for some territories (including Australia) we can offer standard shipping with Royal Mail International which may take up to 4 weeks.

For more information see our Shipping policy
Do prices include tax for international customers?

Any orders shipped outwith the UK, including to the European Union, are subject to local import duties which are payable prior to delivery. Each country has its own thresholds so please check the rules in your country before purchasing to avoid surprises.

In the event that a customer refuses the taxes and a package is returned to us, original and any incurred return shipping costs will be deducted from the refund amount.
Warranty & Returns
Can I return my jewellery if it's unsuitable?

We are only able to accept returns on our rings, necklace chains and charms within 14 days of delivery.

Due to hygiene reasons, we are unable to accept returns for unsuitable earrings or body jewellery so please double check the information on the product page to be sure that the item is suitable before purchasing.

See our Returns policy for more information.
What is your warranty policy?

All of our jewellery comes with a 12 month warranty.

Please note the warranty does not cover damage arisen from normal wear and tear, accidents or misuse by the customer such as jewellery which has become bent or damaged after purchase.

Our dainty jewellery is made with solid gold and should be handled with care. We would always recommend visiting a reputable piercer to have it fitted.

If you have a query about your jewellery warranty please email us at help@laurabond.co.uk
Styling & Sizing
How can I tell if an earring is suitable for my piercing?

There's a couple of things to consider before buying cartilage jewellery. Firstly, the style of earring needs to be suitable for the intended placement/piercing.

If you would like assistance selecting some jewellery for your piercings, please email us at help@laurabond.co.uk and we will be more than happy to help.

Secondly, ear anatomy is unique to every person and what fits one persons tragus may not fit anothers. All placement advice is based on styling only, please speak to your piercer for advice about your size so that you can be confident before purchasing.

You can find our more in our Piercing 101 Guide.
What is an earring gauge?

The gauge refers to the thickness of the post that goes through your ear. The higher the gauge, the thinner the post. For example, 20g (0.8mm) jewellery has a thinner post than our 16g (1.2mm) jewellery.

New cartilage piercings are fitted with a 16g earring - the same thickness as all of our labret studs. If you have been pierced with a gun rather than a needle, you will probably need to visit a piercer to stretch your piercing in order to wear our 16g cartilage studs.

Our huggies and clicker hoops range from 16g-20g. If you wear a thinner gauge earring, over time your piercing may shrink around it but a good piercer will be able to stretch it for you when you want to size back up.
Gifts
I'm buying a gift, can you help?

Our website has a "wishlist" feature so if there is a special occasion coming up, why not ask them to send some helpful hints?

Buying cartilage jewellery can be a minefield if you're new to it. There is no such thing as a silly question and the team are always on hand to help with styling suggestions if you know the sizes your loved one needs, but please bare in mind that we aren't able to accept returns on earrings that don't fit.

For complete peace of mind, we would recommend one of our gift vouchers which are delivered instantly by email.
Fitting
How do I fit my new jewellery?

Our jewellery is intended for fully healed piercings. To avoid any damage our solid gold body jewellery is best fitted by an experienced professional such as your piercer, especially if it is the first time you are changing it.

A piercer will also make sure your jewellery is fitted securely and confirm its suitability for the intended piercing. We would advise against using tools to fit your jewellery as this may cause damage.

Our dainty jewellery is made from solid gold and should always be handled with care as it can bend easily when too much pressure is applied. Never force your jewellery, if it becomes stuck always consult your piercer for assistance.
Care/cleaning
Can I really leave my earrings in 24/7, even for swimming?

Yes! Our jewellery is made with responsibly sourced solid gold, chosen for its beautiful lustre and because it doesn't permanently tarnish or rust. For this reason it can be confidently worn for daily activities such as showering, swimming or exercising.

Solid gold jewellery is also hypoallergenic and is extremely unlikely to cause irritation or allergic reactions, ideal for long term wear in piercings.

That said, earrings can loosen over time if they catch on hair or clothing so we advise regularly checking your jewellery to make sure it is secure and tightly fastened to prevent loss or breakage.
What is the best way to look after my solid gold jewellery?

Although gold does not corrode, it may still tarnish due to exposure to body oils and cosmetics. This is most likely to happen on the part of the earring which goes through the ear such as the post.

To maintain it's sparkle, restore its lustre and to keep your jewellery in the best condition and remove build up, we recommend carefully cleaning your jewellery every few months. Please check our looking after your jewellery page and Instagram highlights for cleaning tips.

To protect your jewellery when it isn't being worn, we would recommend storing your jewellery in a box out of direct sunlight and away from warm, humid environments.
As seen in